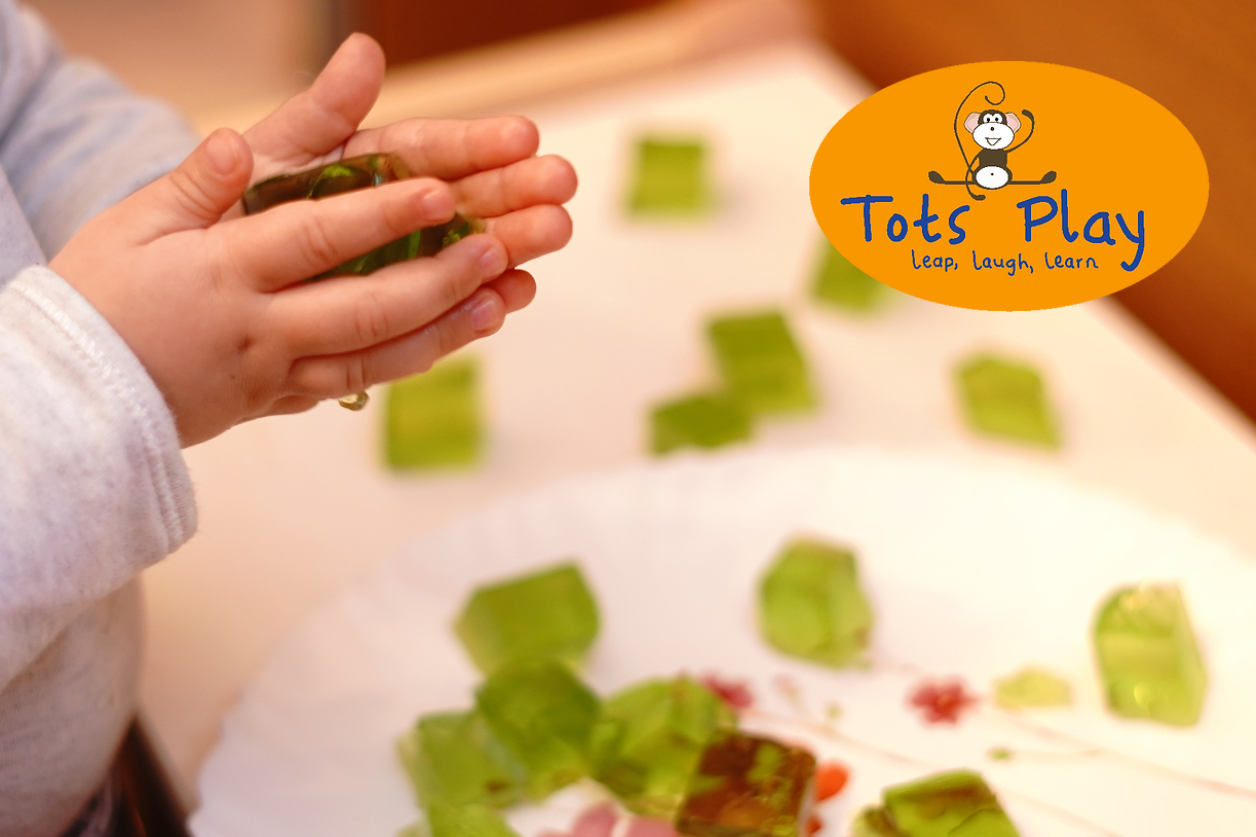 Four ideas for edible play
By Tots Play
For fun, safe and easy playtimes, try introducing edible play to your little ones! At Tots Play, we know that young children learn best when using their whole body and all their senses. They naturally learn from the world around them and as both a baby and toddler your little one is a sensory sponge, soaking up everything they can from all the experiences and opportunities they are presented with.
While we want to encourage that curiosity and desire to explore, any parent to a little person will know this also means being vigilant during their playtimes as everything goes in their mouth! It's innocent enough, they just want to use their taste sense and the sensory receptors in their mouth to investigate. It's great for them to be able to do that, and provides lots of learning, but it isn't always a safe option with all items and may lead you to avoid some play opportunities.
There are lots of ways to give your little one some fantastic play experiences (and you some peace of mind), and we've put together some fun ideas for edible play sessions.
Introducing weaning through edible play
If you are starting the weaning process then edible play is a great way to ease into it. Letting your baby explore different food items can be helpful when introducing new food during weaning as it takes the pressure off the process.
You can start this really simply by just giving your baby things like different fruits and vegetables to look at and touch, or putting a little of what you are preparing on their high chair tray for them to examine while you are cooking. This provides lots of opportunities to explore texture, shape, size, colour, etc. The more children explore food, the better their relationship is with it.
If you're looking for more information and advice on introducing new foods, exploring textures and flavours, and all things weaning, there are lots of resources available. Check out more articles over on the Weaning World blog, or follow Weaning Week on Instagram and Facebook.
Bringing food into play time
Edible play offers lots of sensory fun, with the added bonus of being completely safe for little mouths. This means you can relax more and enjoy the experience of playing with your child. We include some of these during sensory play at classes, but they are fun to try at home too. Here are four of our favourite ways to explore edible play with your little one…
1. Beach in a box
Children usually love sand, but when your baby wants to try eating it you'll find it can be a bit of a challenge! Our edible 'beach in a box'  is a great substitute that is fun, safe and can be played with inside or out. All you need is a large plastic box (low sided, under-bed storage boxes work well) and some food items from your cupboard. You could use porridge oats, rice, semolina, crumbled up biscuits, or anything else you have in your cupboards that mimics the texture of sand.
To keep it as fully edible play, you can just use your food-based sand and some water to create your beach. Or, particularly as your kids grow, you can add rocks or shells from a real beach if you want. Let children play using spoons and smaller boxes, or even a bucket and spade for a more authentic feel. They might not be able to get a sandcastle out of it, but they will love filling up the bucket and getting their hands and even feet in there to feel the textures. If you do it inside, you might want to put a messy mat (or even a black refuge bag) underneath the box and your child to make cleaning up at the end of the play a lot easier.
2. Spaghetti snakes and worms
The idea of playing with slimy snakes or worms might seem a little disgusting to you, but can be very exciting for your baby or toddler. Luckily though, you don't actually have to go hunting in the garden. There's a really fun, safe alternative right in your cupboard: Spaghetti. Cooked spaghetti provides a really interesting texture for your little one to explore, and older ones can exercise their imagination too if they do want to pretend that they are wriggly worms or hissing snakes!
You can keep the spaghetti plain, or you might want to make things even more fun by dying it different colours. To do this, you also need zip close freezer bags, cooking oil and food colouring. Here's how to make it:
Simply start by cooking some spaghetti.
Once cooked and cooled, put it in the freezer bags. You need a different bag for each colour you plan to use.
Add a few drops of colouring and cooking oil to each bag and mix it up.
Close the bag and leave for at least an hour.
Open the bags and empty the coloured spaghetti into bowls or boxes. You can mix all the colours up or keep them separate, it's up to you.
Let your little one explore the spaghetti however they would like, and add utensils or hide small toys amongst it to create different play experiences.
This activity can also be extended when your toddler is becoming a pre-schooler. They still love sensory experiences and the spaghetti can be twisted into shapes, letters and numbers.
3. Edible play with jelly
Jelly is another great texture for your toddler to explore – and different flavours, colours and scents add to the sensory experience.
Simply make up a small amount of jelly and let it cool. You could keep some of the cubes of jelly as they are too. Then, put some on a tray or messy mat and let your little one make their own discoveries about what they can do with it.
4. Edible paint
Painting is a great way for older babies and toddlers to explore colour, but, like most things, the paint brushes or painted fingers inevitably end up in their mouths. You can buy non-toxic paints, but they are quite expensive. Instead, there are lots of quick and easy ways to make it yourself that will be completely edible.
Try one or more of these:
Yoghurt – just add food colouring to plain yoghurt
Jars of stage one baby food can be used as paint straight from the jar
Fruit paint – puree some fruit and paint with it! Good examples are blueberries or strawberries
Provide paper and brushes – a piece of foil can work well too – or just explore moving the "paint" around with fingers on a high chair tray. The creative options are endless – but a bath may be in order afterwards!
About Tots Play
Tots Play is an award winning, multi-activity developmental play program for babies and toddlers, and we are passionate about sharing simple ways that you can support your little one's development through play.
We include opportunities for sensory exploration at all our classes, so if you need a bit more inspiration, or prefer our class leaders to clean up the messier activities that you may not want to do alone at home, then come along and explore your child's sense with us, as well as enjoying a wide range of other activities specially designed to enhance their development in a way that is fun, engaging and supportive.
For more sensory, physical and musical ideas to try at home, we have lots of products available on our online shop to enhance playtimes at home.
Find your nearest class HERE and come and join us soon!
Disclaimer: The views and advice given in this article are those of the guest writer and do not necessarily reflect the opinions of Weaning Week or any other organisations represented on this platform