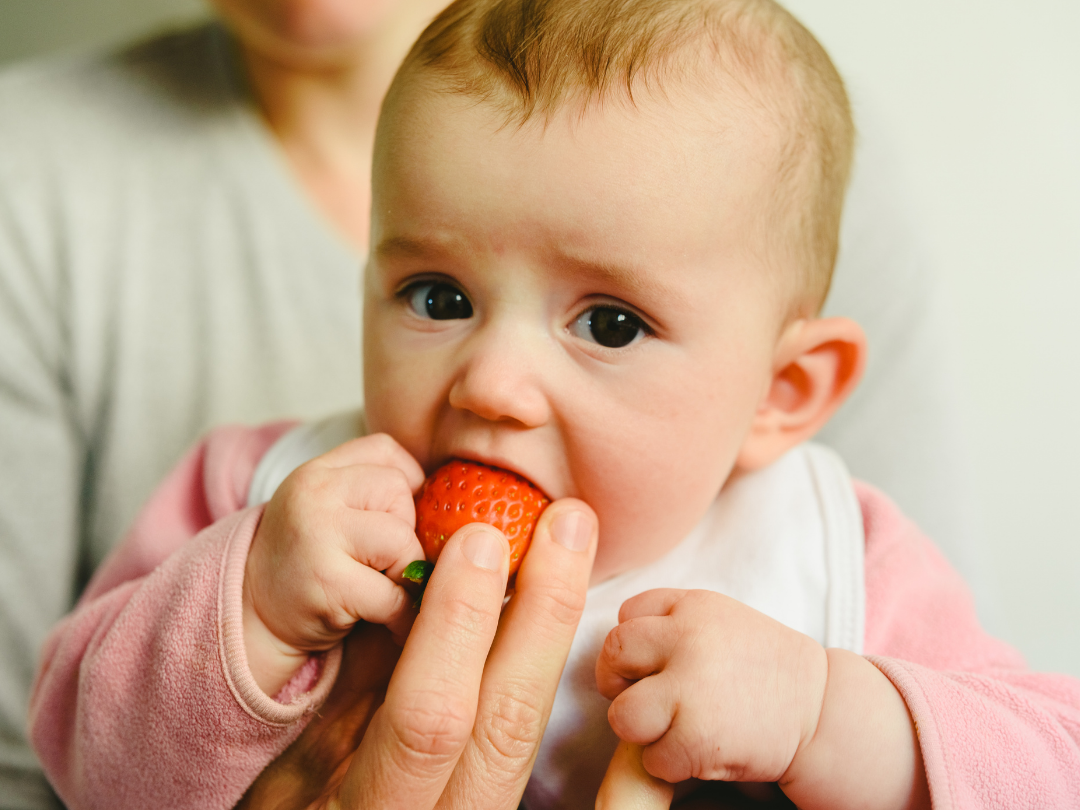 Is there a best time to start weaning?
Yes!
There are a few things to consider when you're wondering if it's time to start weaning your little one on solid foods. The first thing is to make sure they are displaying the 3 developmental signs, the second is to think about the time of day and the third is to think about what works for you.
What are the 3 developmental signs?
 Baby can sit up unaided and hold their head up and hold it steady. If they are a bit wobbly, that's ok but they want to be able to do it without too many cushions to support them. It's really important they can hold their head up because it means that the food can be swallowed and has a clear passage to move down into their tummies.
 Baby can pick things up and put them in their mouth. If they can do this, it doesn't mean that they will eat. Some babies will pick everything up and put it in their mouths, but when you start them on solids, they don't do the same with food! Funny things, aren't they?!
 Baby can move food from the front of the mouth to the back of the mouth and swallow it. When babies drink milk, the milk goes directly to the back of the mouth without them having to move it there (have a look at a diagram of breastfeeding; it's fascinating). When they eat solids, they need to be able to do it themselves. If they can't, their tongues will just push it out again. It's more than just playing with it, it's an inability to move it to the back and swallow. If this happens, leave it a week and then try again.
So, you have the 3 developmental signs, but what's the best time of day?
Again, you are looking for 3 things:
 A time when baby is not too hungry – they won't associate the solid food with something which will fill them up, so it won't be a happy feeding time.
 A time when baby is not too full – if they have just had a full feed, they won't want to try anything. So give them the solids first and then the milk.
 A time when baby is happy and not too tired – you want the first taste to be as positive as possible.
You might be thinking, there is no such time. Lots of parents find it's soon after baby wakes up in the morning. They are likely to have had a feed in the night and then when they wake up they can wait a bit until their first feed. If that's the case, try them with some solids when they wake up. If your baby isn't happy to wait for milk when they wake up, try mid-morning. Ideally, give the first tastes in the morning so their little tummies have a chance to process the new food. You are only giving a very tiny amount but it's still a new experience.
Think of what's best for you, too.
If the time you have identified is the worst time of day for you because you are trying to get ready to go out or get others out of the house, or you just aren't a morning person and you think it would be too much, just look for another time. Don't delay it til life gets quiet as it probably won't with a baby, but delay it for a couple of hours and then find your slot. Feeding our babies when we are calm and relaxed is so important as it is part of creating a positive food environment.
Where can I learn more?
Learn more about weaning through my ebook 'Weaning on a Budget', or book a session with me to find out more about creating a positive food environment for your baby.
Aliya Porter is a Registered Nutritionist and mum of 3. She has years of experience helping families to create a positive food environment and help eat a healthy balanced diet without breaking the bank or chaining them to the kitchen. She has recently been shortlisted for Community Nutrition Professional of the Year 2022 with CN Awards.
Instagram: @weaning_centre
Facebook: @porternutrition