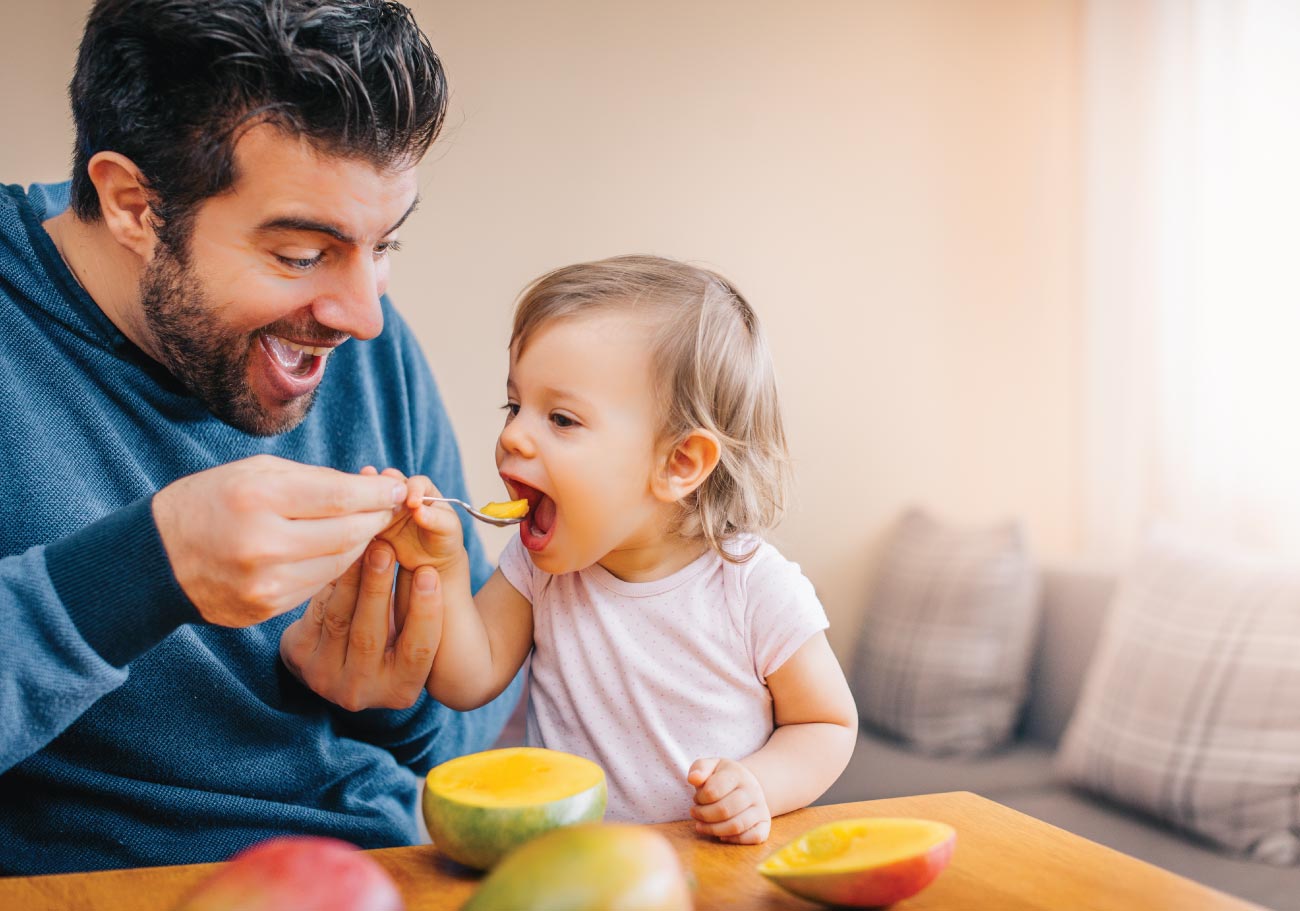 Bonding with your baby through shared food
with thanks to Dr Sarah Schenker, Registered Dietitian and Nutritionist
Dr Sarah Schenker is a Registered Dietitian and Nutritionist with a special interest in cooking for young children and tackling fussy eating. As a busy mum, she has a wealth of experience juggling time between working and looking after the family, making sure they keep fit and healthy and of course eat well.  In this blog, Sarah shares some of the many benefits of eating together with your baby or child.
As the mum of two lovely young boys, I have been through the fun and antics of weaning twice, and as a Dietitian I have helped and advised numerous new parents on weaning their babies, guiding them through the various challenges and reassuring them through moments of anxiety. Many new parents are keen to make sure their baby eats healthily, but they often forget to look after themselves, and can end up grabbing unhealthy, empty calories on the go. My approach is to share food with my baby; nourishing, wholesome food is important to me and I wanted my baby to be a part of this from an early age. Starting solids is one of the great milestones of your baby's first year of life and so the weaning journey should be fun, easy and, above all, healthy for both your baby and you.
A baby's first experience of food is so important to help develop adventurous tastes and avoid fussiness, so it needs to be social and inclusive. If they're eating alongside others, your baby will naturally copy others, and eat a broader range of foods and develop better eating habits. Many babies sit in their highchairs with nobody else eating, while they are spoon-fed and wiped by an anxious mother, who might be worrying about mess or how much their little one is eating. Put yourself in their shoes for a minute. Such a stressful environment does not make for a lovely first-time experience of food and eating.
There are huge benefits for you if you eat with your baby. The foods you offer your baby are packed full of the important vitamins and minerals they need to grow and stay healthy – and you need the same. If you are preparing mashed avocado for your baby, it makes sense to take the other half and make something nutritious for yourself – smash it with a pinch of paprika, some cherry tomatoes, a sprinkle of pine nuts and serve on a slice of rye toast. The better you eat, the better you will feel. This will help you deal with the tiredness, improve your mood and give you the energy you need to take on the challenges of the day.
Eating together and sharing food is one of life's real pleasures and so this should start from weaning.
About Sarah Schenker
Sarah is a registered Dietitian and Nutritionist, health writer and broadcaster, regularly contributing to titles including The Daily Mail, The Times, Men's Health, Cosmopolitan, Glamour and Top Santé magazine, as well as appearing on and consulting for shows including This Morning, Channel 5 Secrets of your Supermarket, Watchdog and across national and local BBC Radio and Sky News. She has a published writer and a member of the Association for Nutrition; The Nutrition Society; The Guild of Health Writers and has served on both professional and government committees. For more information about Sarah visit Sarah Schenker Nutrition Ltd or follow her on social media.
Disclaimer: The views and advice given in this article are those of the guest writer and do not necessarily reflect the opinions of Weaning World or any other organisations represented on this platform.