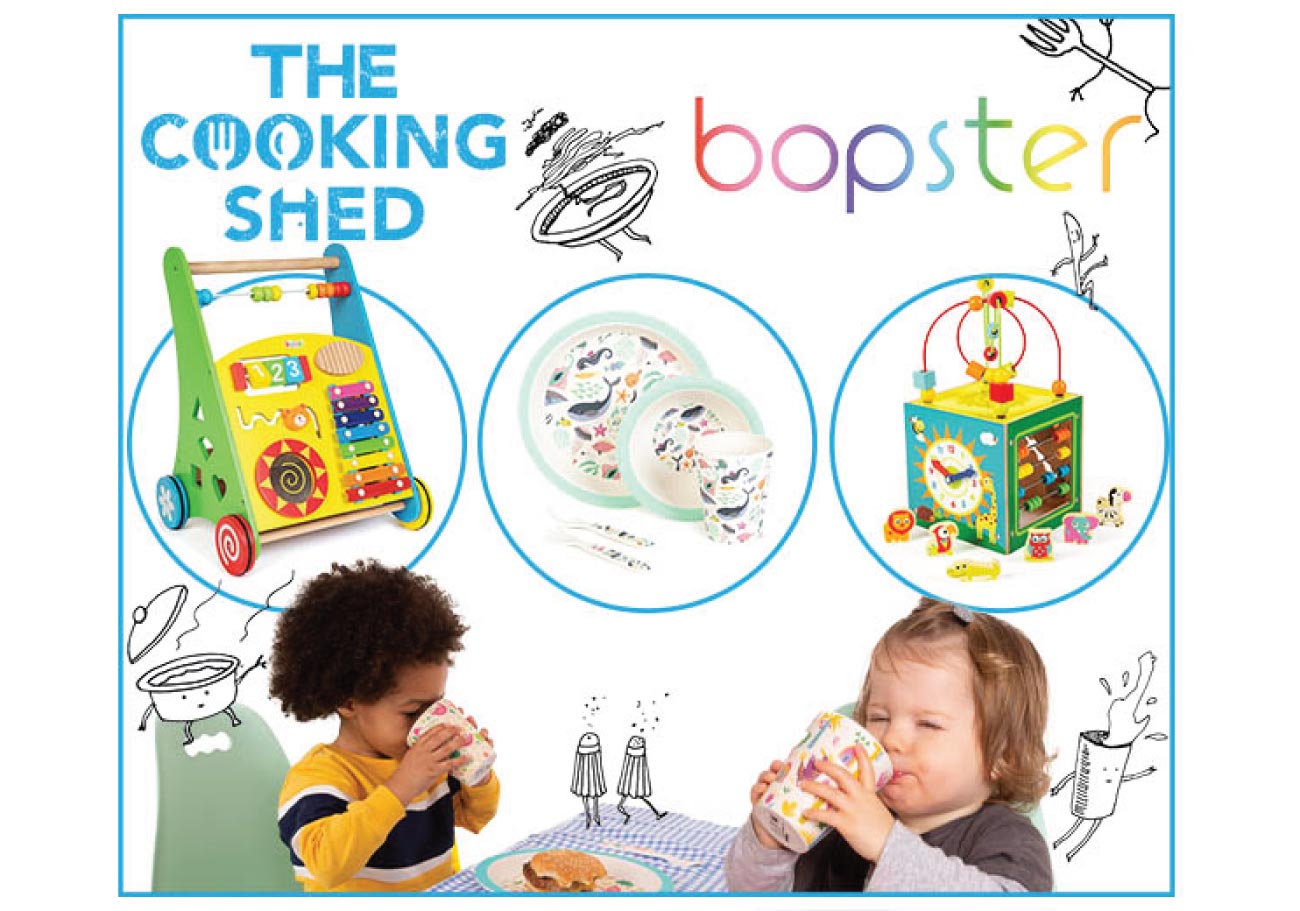 TEN TOP TIPS for cooking with babies & children
with thanks to The Cooking Shed & Bopster
The Cooking Shed & Bopster have teamed for this blog to share TEN TOP TIPS for cooking with babies & children, to ensure it's a positive experience and to help inspire the next generation of budding chefs.
Cooking with kids can be so rewarding. Not only does it encourage children to experiment with new flavours, learn where ingredients come from and provide some precious time together, but it also builds confidence in children through sharing and presenting the food that they've created.
1.  They're never too young to help in the kitchen! Children LOVE to watch. Set up a safe area in the kitchen for them so that they're close to where you're cooking, and as soon as they're able to grab and move things, they can help by simply transferring handfuls of food from their packs to the bowl – or ripping the leaves of a washed lettuce with their hands to help make a salad. Start them young, and see how quickly they progress.
2.  Prepare for battle by measuring out all of the ingredients in little bowls and keeping out of reach until they're needed.
3.  Read through the recipe and if it helps, write quick larger notes on what to do next on a piece of paper so you can use it as a guide without having to ruin your cookbook or reading back through reams of info whilst trying to stop your child smearing dough or chocolate mixture all over your windows!
4.  Snacks at the ready: cooking is guaranteed to get the taste buds going, and if you have to wait for your dish to cook and cool, then it could help to have a bowl of separate healthy treats for them to snack on…otherwise they'll eat their weight in cake mix before you can say "baking tray".
5.  Forget the mess and tidy up when you're done (and get them to help!). Relax and enjoy yourself and let them touch, squidge and feel things – it's all a part of them learning about food and textures.
6.  "Look Look!!" Make sure they see every bit of the process from weighing things out to putting the baking tray in the oven (ensuring of course that the adult does this bit and they stand safely away) It's all part of understanding and recognising that what's coming out of the oven is the same thing they've made.
7.  Be adventurous don't just stick to boring bland basic recipes – add in some different flavours and try something new. When your child has cooked something themselves, they're more likely to try it, so use it as an opportunity to get them trying things that they might otherwise turn their nose up to…and if they don't like it, you can always eat it for them.
8.  Role play! Pretend you're on a cooking programme together, and talk to a pretend camera about what each of you are doing. It's a great way to demonstrate to your child without them feeling you're telling them what to do. Pretend the dining room is a restaurant, and get them to set up the table and play waiter/waitress with you. Why not jazz up the table with our super colourful and eco friendly boppi bamboo dinner sets?
9. Smile! Don't forget to take pictures – and let them take one of their finished dish too. Not only does it give them something they're proud of to share (even when it's been eaten), but it's also a nice memento for you to keep and look back on.
10. Enjoy yourself. Probably the most important tip of all. Cooking together should be fun – for your child and for you. If you relax and enjoy yourself, then they will too.
We hope you find these tips useful. If you find that your little one enjoys cooking along with you, then why not learn some new skills and dishes together, and join The Cooking Shed for an online adult and child cookery lesson? (suitable for ages 3yrs+)
Giving dinner times a theme can also be lots of fun, so why not serve a fish supper on our 'under the sea' Bamboo boppi 5-piece dinnerware set, or a crunchy green leafy salad on our jungle range? As well as looking fab, they're also eco-friendly and made from all-natural bamboo that's food-safe, BPA free, and dishwasher safe.
About:
The Cooking Shed is owned and run by cook and food writer, Regan Anderton and operates cookery lessons and private dining experiences across London and Kent. Regan works with a team of award-winning local suppliers to ensure high quality welfare standard and sustainable products are used in all dishes created. Regan also won BBC1's Yes Chef! 2016 where she cooked for four Michelin Star Chefs, as well as highly acclaimed three Michelin Star Chef Pierre Koffman. www.thecookingshed.com
Bopster's 'boppi' bright and colourful bamboo dinnerware is an eco-friendly choice for children's mealtimes. BPA free, non-toxic, food-safe and dishwasher safe, the lightweight but durable nature of bamboo makes the dinnerware highly resistant to breakages and chipping. https://bopster.eu
Disclaimer: The views and advice given in this article are those of the guest writer and do not necessarily reflect the opinions of Weaning World or any other organisations represented on this platform.