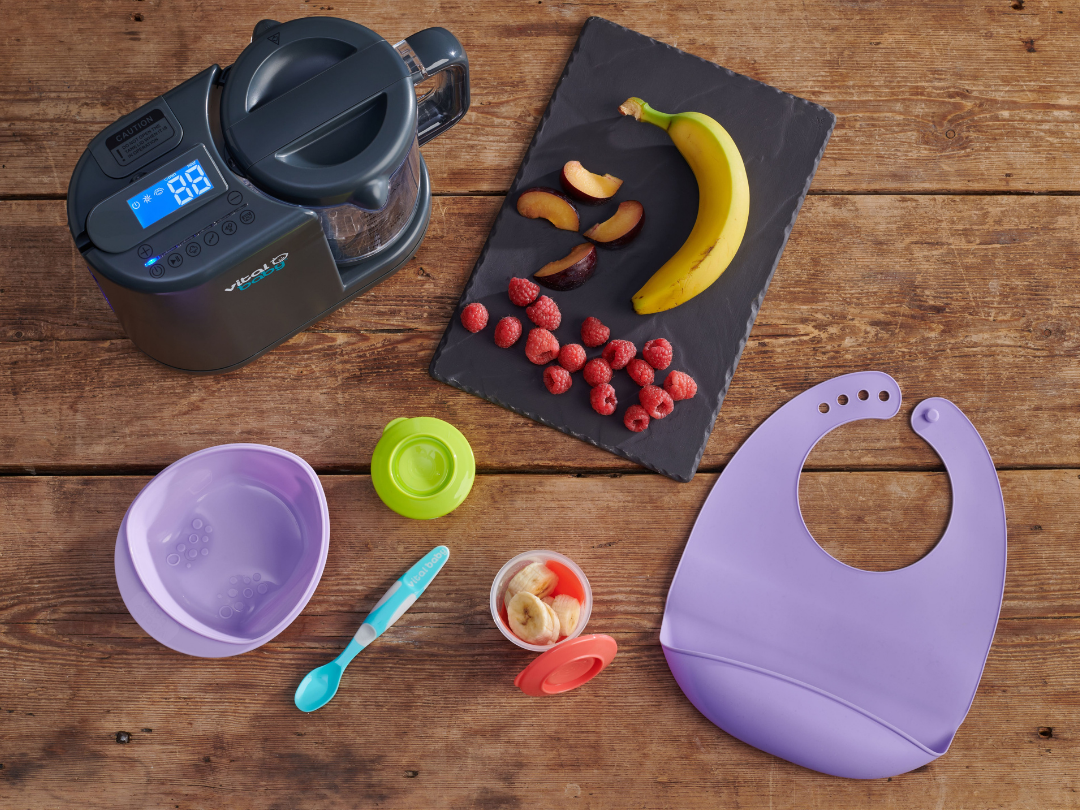 Baby-led Weaning: Finger Food Ideas
By Vital Baby
Letting your little one discover the world of food for themselves is a great way to improve their fine motor skills and hand-eye coordination. Figuring out how to grab hold of food and bring it to their mouths is a great step forward in their weaning journey, but it's hard to know what foods to put in front of them.
What is baby-led weaning?
While some parents prefer to spoon-feed their little one, others choose to encourage them to feed themselves. This is known as baby-led weaning. The NHS Start4Life says:
"Baby-led weaning means offering your baby only finger foods and letting them feed themselves from the start (rather than spoon feeding them puréed or mashed foods)."
Though your baby is the one doing the feeding, it's still up to you to decide what to put on the plate. Ensure there is a wide variety of food that covers all of the nutrients they need, but serve them up as small, finger-sized pieces of food.
What finger food should I offer my baby?
We've compiled a list of fruits and vegetables, as well as starchy and protein-rich foods, that can all be served as finger foods for self-feeding. Keep in mind that it can take more than 10 tries for your baby to get used to new foods, so keep mixing it up and try the same foods multiple times over their weaning journey.
Vegetables
Getting a variety of vegetables into your little one's diet is a great way to make sure they're getting plenty of nutrients, including vitamins and anti-oxidants. At first, they might seem to be fussy about their vegetables, but if they see you enjoying them they might change their mind!
Veggie finger foods:
Fried aubergine
Roasted bell pepper strips
Roasted parsnips
Broccoli
Green beans
Fruit
Whether it's with a meal, or as a snack in later stages of weaning, offering fruit finger foods lets you sneak extra water into their diet, as well as plenty of energy and vitamins which are vital for their growth.
Fruity finger foods:
Apple slices
Mashed avocado
Melon sticks
Banana slices
Halved strawberries
Starchy foods
Carbohydrates, root vegetables, cereals and grains are all just as important as fruit and veg in your baby's diet. Try to opt for wholegrain where possible, as this will provide more energy and help your little one feel fuller for longer.
Starchy finger foods:
Bread 'soldiers'
Pitta bread slices
Sweet potato wedges
Mashed potato
Cooked pasta
Protein
Foods that are protein-rich are incredibly important for your baby's growth and muscle development. These foods can also provide iron, zinc, omega 3 fatty acids and other nutrients your child needs.
Protein finger foods:
Shredded chicken
Scrambled egg
Chopped meatballs
Cooked, boneless fish
Cubed or grated cheese
Vital Baby offers a wide range of NOURISH weaning products, gadgets and accessories to help you on your weaning journey. Whatever you choose to offer your little one, serve it up in style with their bright, colourful tableware and cutlery.