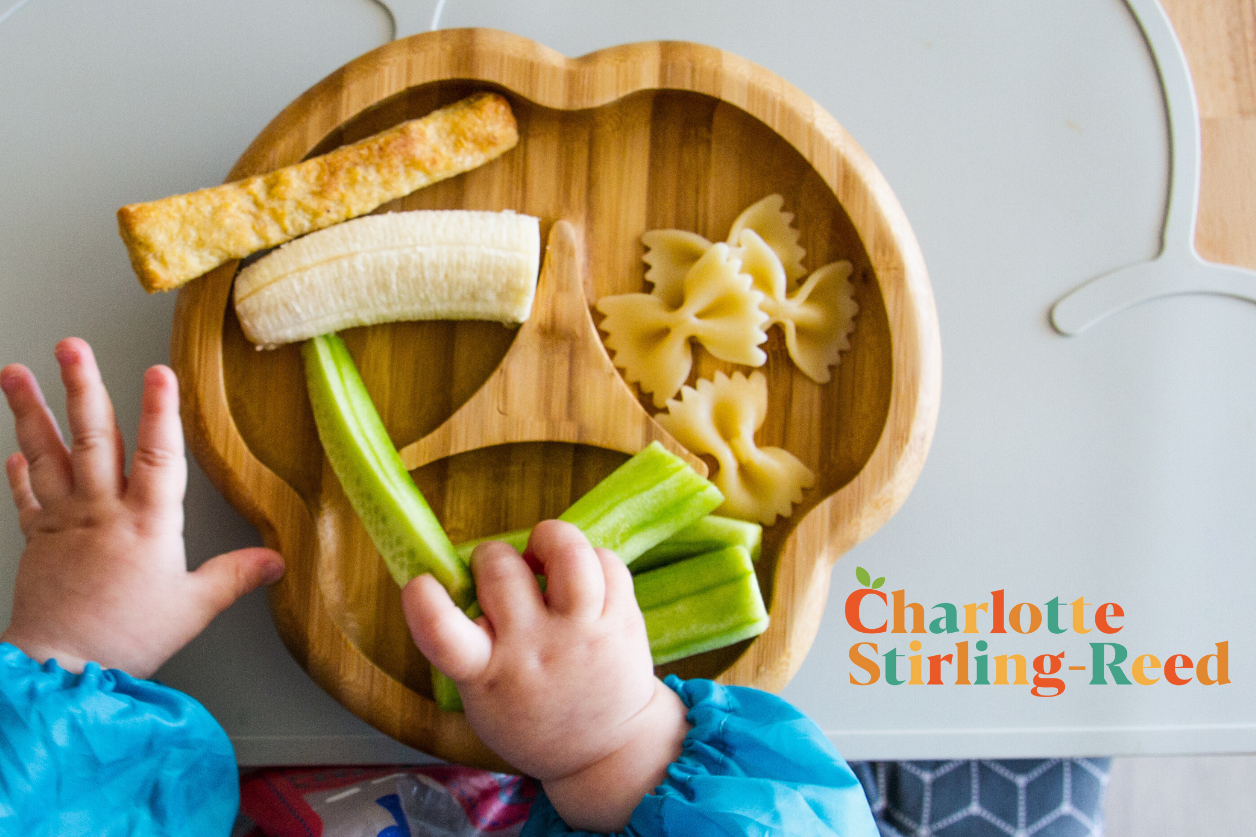 Do I HAVE to do Baby Led Weaning?
By Charlotte Stirling-Reed of SR Nutrition
Do you have to do Baby Led Weaning? I get asked this question often by parents who are a little nervous about offering their baby pieces of food and finger foods right from the start of weaning. I want to tell you a little about my OWN version of Baby Led Weaning, which might help reassure a lot of parents out there.
What is Baby Led Weaning?
Baby Led Weaning is essentially the process of offering your baby pieces of soft food right from the start of weaning. Usually it involves no mash or purees and also not using a spoon to feed baby. Instead, baby uses their own skills to self-feed from the very beginning of weaning.
As with everything, there are pros and cons of solely offering finger foods, just as there are with spoon-feeding. However, my stance is that we really don't need to choose one method of weaning your baby.
To be truly "baby-led", I believe that a best-of-both approach is much more beneficial. This means offering your baby some mash (or puree foods) off of a spoon, as well as offering some soft finger foods, right from the beginning of weaning.
Benefits of a 'best-of-both' approach
It allows baby to lead their own journey – some babies take to the spoon and others to finger foods at the start, so it allows them to do what they are more comfortable with
It helps baby to develop both skills with self-feeding and also the skills needed to successfully use a spoon and utensils.
It encourages a greater variety of foods – some foods work well as finger foods and not as mash, and vice versa, so this allows for you to offer plenty of safe foods to your baby.
It allows baby to change their mind and explore different methods of feeding at their leisure. Babies are so up and down and some days they might be too tired to self-feed or eat more complex finger foods. Offering both allows them to practice and experience both depending on how they feel that day.
It takes the pressure off of you as a parent. Knowing that you don't have to wean in a certain way can really help, and can allow you time to build up more confidence with feeding your baby at the start of their journey with weaning.
Weaning Resources
I have lots of helpful articles on topics such as "Finger Foods for Your Baby" and "Moving through Puree Textures" which might help give you more details about the what and how of offering first foods to baby.
Also, don't forget to check out my Online Weaning Course, which really takes you through weaning step by step, with lots of visual tools and helpful guides.
About SR Nutrition
With a Masters in Nutrition and a background in the NHS, Charlotte Stirling-Reed is well-versed in the world of weaning. She founded her hugely successful consultancy practice – SR Nutrition – to offer support, resources and advice to parents. 
For more tips and advice, visit out our blog. And don't forget to follow us on Instagram and Facebook for more #WeaningWeek2023 advice and activities! 
Disclaimer: The views and advice given in this article are those of the guest writer and do not necessarily reflect the opinions of Weaning Week or any other organisations represented on this platform.