Tofoo balls in a Mediterranean sauce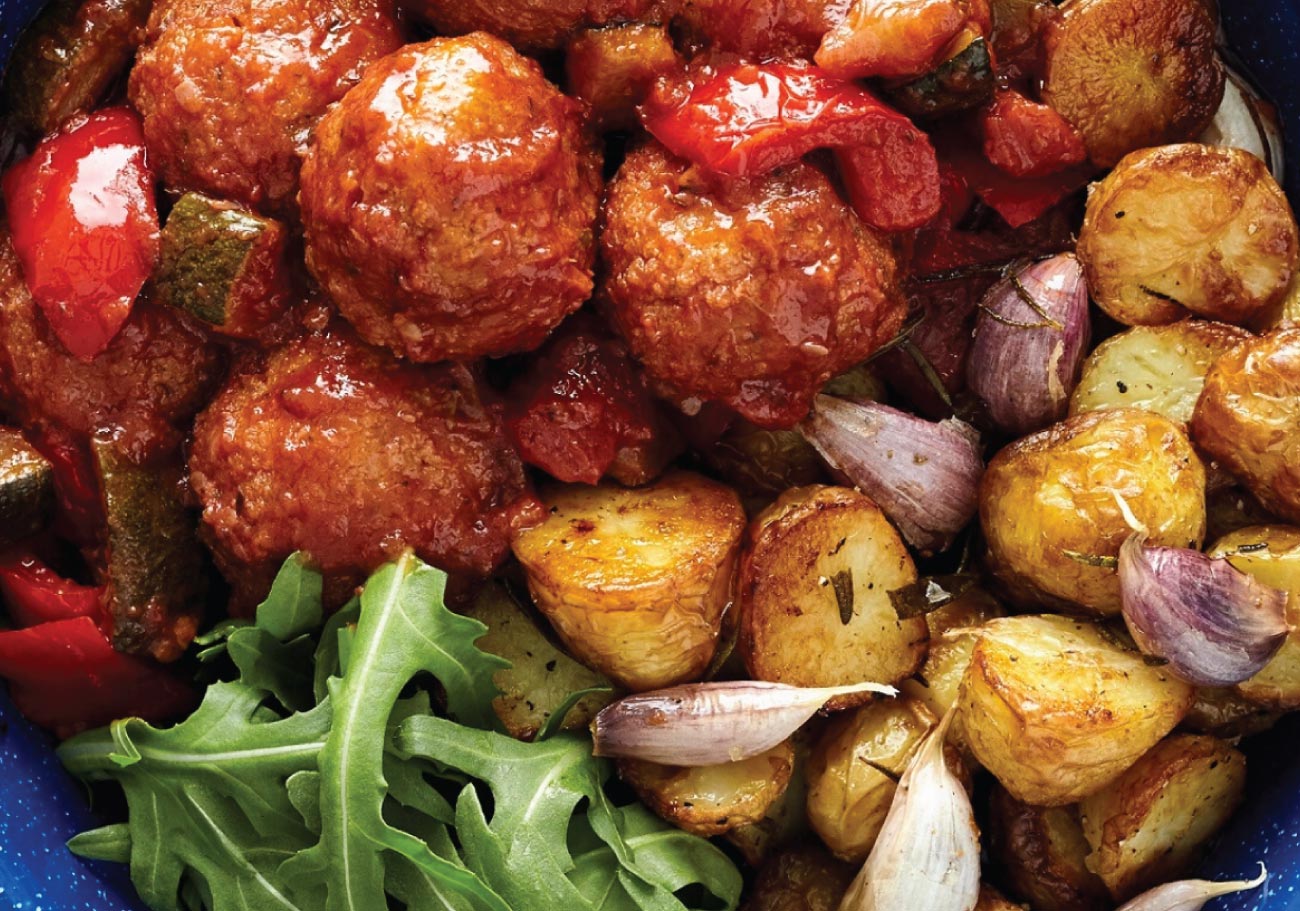 This recipe for Tofoo balls in a Mediterranean sauce makes a tasty dinner for the whole family.
Serves 2/3
Prep 20 min
Cooking 35 min
Adjust Servings
1

Pack

Naked Tofoo

1

Onion

4

Cloves

garlic

1.5

tbsp

Dried oregano

50

g

Panko Breadcrumbs

2

tbsp

Olive oil

1

Red pepper

2

Courgette

400

g

Tin chopped tomatoes

200

ml

Red wine

(Optional)
1.
Heat Oven
Preheat the oven to 200℃.
2.
Blend
Place the Tofoo, chopped onion, two peeled and roughly chopped garlic cloves, half the oregano and the breadcrumbs in a food processor and blitz to make a thick paste. Season well with salt and pepper.
3.
Mix and cook
To make the balls roll the mixture in your hands to the size of ping pong balls (about 1 inch in size). Place the rolled balls into a roasting tin and coat with the oil. Place the tray in the oven and roast for 15 mins until the balls have browned a little.
4.
Dice and mix
Dice the pepper and courgette and add to the roasting tin along with the remaining two cloves of finely chopped garlic, and the remaining oregano. Mix together and roast for another 10 mins then add thed red wine and put back into the oven for a further 10 mins to reduce down.
5.
Combine
Add the chopped tomatoes and season with salt and pepper. Mix gently, being careful not to break the balls. Put back in the oven for another 10-15 mins until bubbling and the balls are a nice rich colour.
6.
Serve
Serve with potatoes roasted with garlic and rosemary, or the pasta of your choice.
Disclaimer: The views and advice given in this article are those of the guest writer and do not necessarily reflect the opinions of Weaning Week or any other organisations represented on this platform