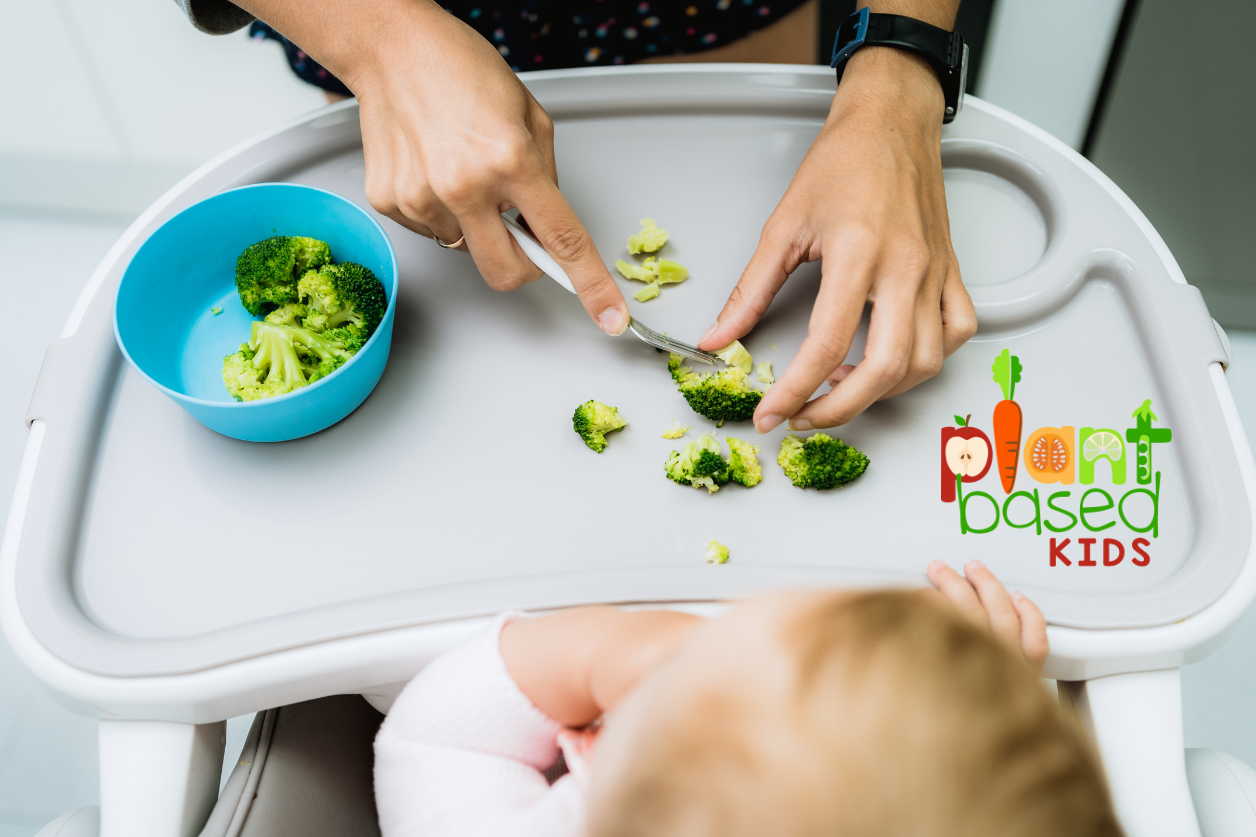 Top 5 tips for plant based weaning
I am a Paediatric Dietitian and here are FIVE of my top tips for raising your baby on a plant based or mostly plant based eating pattern…
TIP NO. 1- Don't be afraid of fats!
Babies need more fat than we do as adults, around 35 to 45% of their calories should come from fat, whereas for older children and adults it's recommended to have 'no more than' 30-35% of your calories from fats.
Fats also help with the absorption of fat soluble vitamins A,D,E and K. Aim to offer a source of fat at most of your baby's meals, such as nut or seed butters, ground nuts and seeds, avocado and olive oil to roast veggies.
TIP NO. 2- Offer an iron rich food with every meal
Iron is a critical nutrient for babies, as iron stores that babies were born with start to decline from around 6 months of age. Did you know that iron is the main nutritional reason for introducing solids to babies? Iron rich foods are a priority for all babies when weaning and they should be offered at every meal.
When planning a meal, start with the iron rich food first and base your meal around that food. If you take black beans for example as your source of iron then you can plan your meal around that such as black bean (iron) and sweet potato burgers, with a side of avocado (fats) and peppers, tomatoes, or kiwi fruit for vitamin C to increase iron absorption.
TIP NO. 3 – Offer 2 portions of calcium-rich foods each day
Offer 2 portions of calcium rich foods each day, in addition to breast milk or formula milk. You can offer a fortified dairy alternative drink within foods to babies from 6 months of age, but not as a main drink until at least 12 months of age. Fortified dairy alternative yoghurts are also a good option. Look for products fortified with calcium and vitamin D as a minimum and preferably products also fortified with iodine, vitamin B12 and vitamin B2 if possible.
TIP NO. 4 – Offer a 'rainbow' of different foods
You've probably heard the term 'eat a rainbow' but there is actually a lot of science behind that statement! Offering a variety of different coloured fruits and vegetables to your child means that they will be getting a variety of vitamins, minerals and phytonutrients important for the prevention of many chronic diseases. It is also more fun and visually interesting for your baby to look at lots of different coloured foods!
TIP NO. 5 – Supplement appropriately
In addition to vitamins A, C and D, which are recommended for all babies and children from 6 months to 5 years of age (unless drinking more than 500ml formula per day), all plant based and mostly plant-based babies and children should also take a vitamin B12 supplement and consider an iodine and DHA supplement. The Vegan Society has a Veg1 baby and toddler liquid supplement that contains vitamins A, C, D and B12 as well as iodine and selenium (DHA is not included and should be offered separately).
About Plant Based Kids
I am Paula, mum to 2 girls, Paediatric Dietitian and the founder of Plant Based Kids. I am passionate about empowering all parents to help their children "eat more plants" through my Plant Based Kids platform. Research has shown that the foundations for healthy eating are formed from a very young age and I am passionate about supporting parents to build those foundations right from a baby's very first bite of food!
I have been a children's dietitian for over 20 years, graduating in 1999 from the University of Cape Town and gaining a wide range of experience working in many different settings and hospitals such as the world famous Great Ormond Street Hospital and Evelina Children's Hospital, London as well as consulting to charities and providing expert advice to baby food companies.
Disclaimer: The views and advice given in this article are those of the guest writer and do not necessarily reflect the opinions of Weaning Week or any other organisations represented on this platform