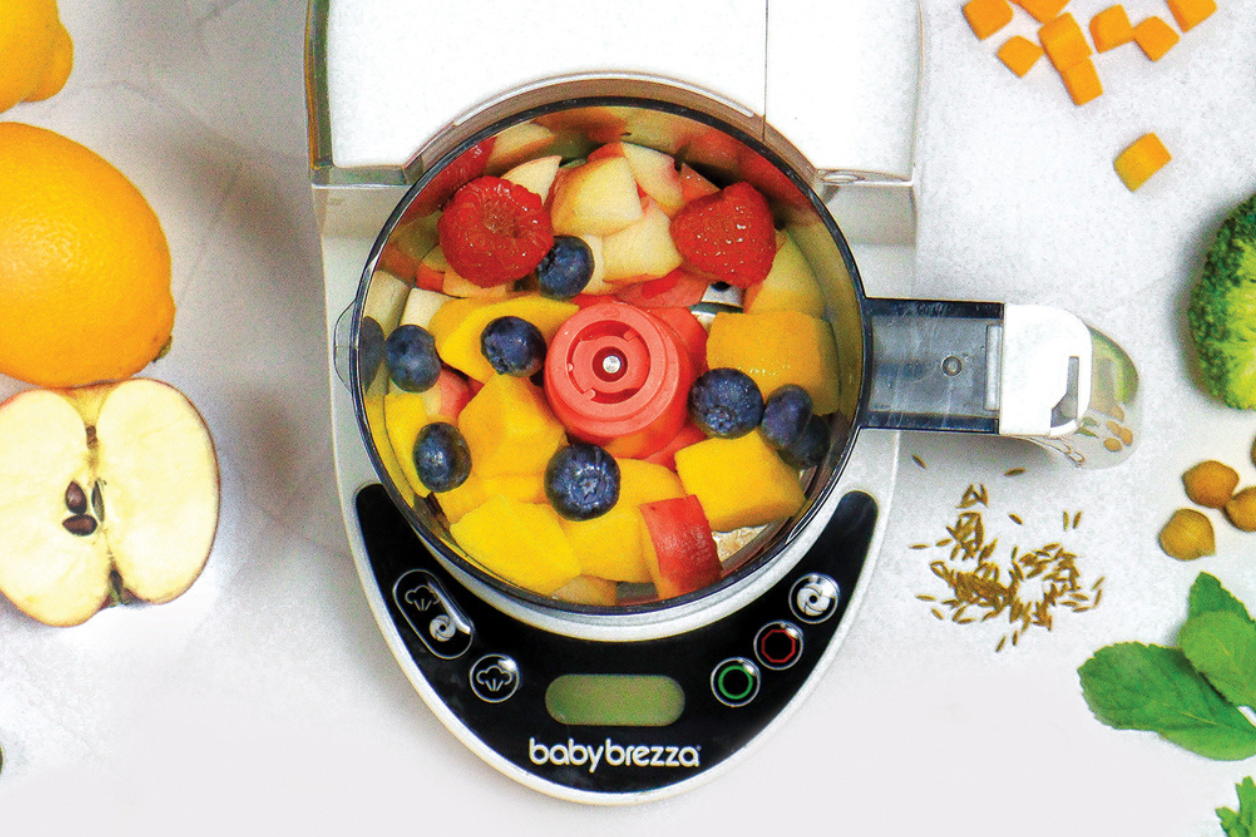 Four foods to strengthen baby's immune system
Colds, flu, and stomach bugs are not fun for anyone, and they can happen regardless of how frequently we wash our hands, cover coughs, sneeze with tissues, and distance ourselves from our little ones.
In order to keep our babies healthy, it helps to be aware of baby food recipes and baby food ingredients that have been proven to help babies build a strong immune system. The best way to ensure that your baby is getting the right nutrients is to make homemade baby food.
Boost baby's immune system with…
1. Sweet potato
Sweet potatoes are packed with beta-carotene, a nutrient that our bodies convert into vitamin A. This is essential for a healthy and functioning immune system.
The Baby Brezza Food Maker Deluxe is ideal for preparing sweet potato puree. Simply add the ingredients, and at the touch of a button the food maker will automatically steam and blend 3.5 cups of sweet potato puree!
2. Avocado
This creamy fruit is great for the immune system, as it's a good source of fibre, vitamin C, and vitamin K. These vitamins help build the cells of the immune system and increase immune response. The omega fatty acids in avocado also help the body better absorb immune-boosting nutrients.
Steaming and blending tip: Avocados do not need to be cooked. They can be tossed into a bowl just before blending the ingredients. We recommend pairing avocados with tomatoes, apples, pears, peaches, or bananas for a delicious meal.
3. Broccoli/Cauliflower 
These vegetables are a great source of protein, vitamin B, vitamin C, vitamin K, and many minerals, helping to boost the immune system. Broccoli is high in calcium and iron and is a great source of fibre, making it a great choice for babies that are constipated.
Steaming and blending tip: Broccoli florets do not have a smooth puree, but the stems do. To make broccoli puree, use only the stems, peel completely, dice into small cubes, steam, and puree. Try the Baby Brezza Food Maker Deluxe to automatically steam and blend in one easy step. We recommend pairing broccoli or cauliflower with carrots, apples, pears, and lamb for a wholesome and nutritious meal.
4. And finally, leafy greens for an immune system boost!
Leafy Greens consist of kale and spinach. These leafy greens are high in calcium and are very nutritious for baby's immune system.
Steaming and blending tip: Wash the leaves of the kale and remove stems. Cut into thin strips. Steam the greens for 15-20 minutes. Kale has low water content and requires additional liquid when pureeing. Spinach is simply washed, steamed for five minutes, and then pureed. Make sure your puree is smooth and consistent throughout with the Baby Brezza Food Maker Deluxe. We recommend pairing leafy greens with yellow and orange vegetables, grains, and legumes for a healthy meal.
Please note: Make sure to sterilize all the appliances you use to prepare and serve food to your baby in order to keep their environment as germ-free as possible. 
About Cheeky Rascals
Cheeky Rascals was founded in 1996 by mum of 3 Selina whose aim was to find genuinely useful baby kit that will make parenting easier.
Having started at the kitchen table and moved to the shed, the Cheeky Rascals team now looks after a brilliant range of nursery products from across the globe. Striving to support other great nursery brands and offering honest advice to parents and caregivers.
Disclaimer: The views and advice given in this article are those of the guest writer and do not necessarily reflect the opinions of Weaning Week or any other organisations represented on this platform