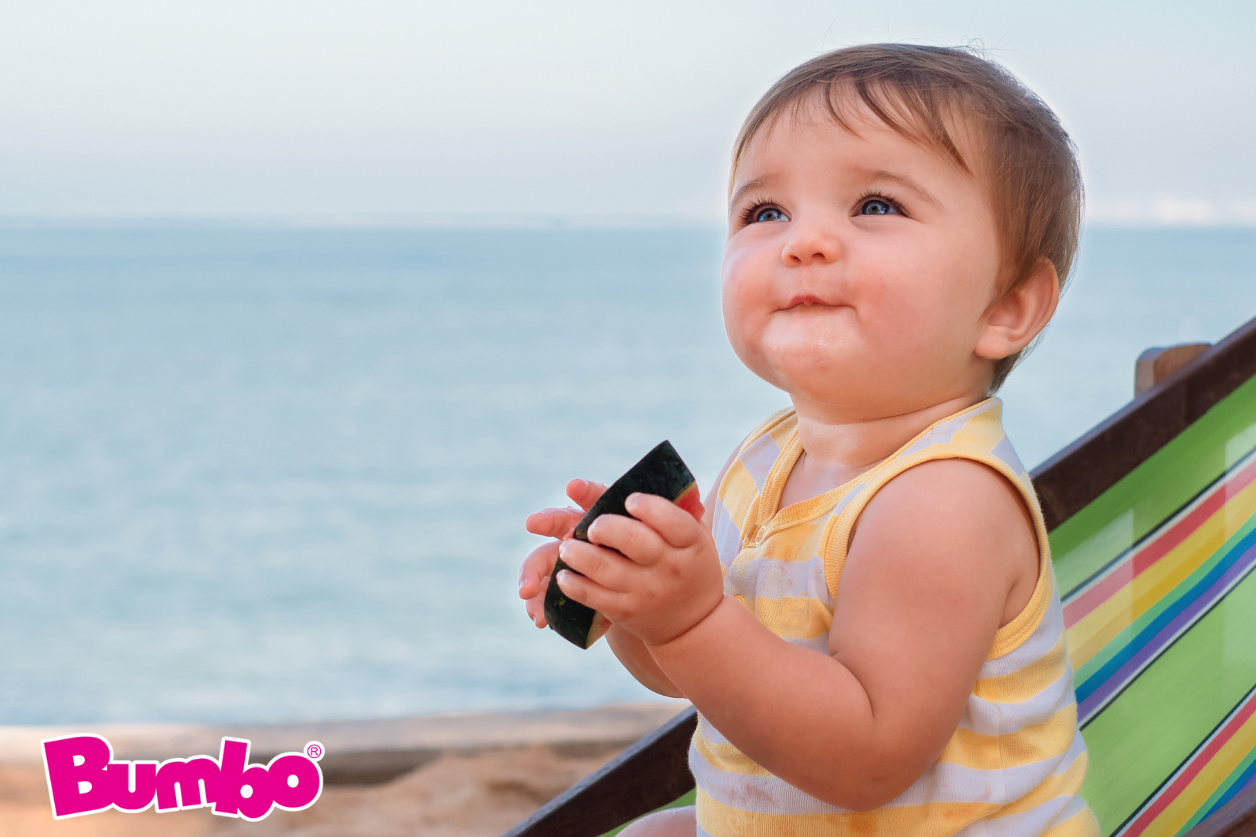 Weaning on Holiday: Tips and Tricks for a Stress-Free Experience
By Bumbo
As a parent, weaning your baby can be a daunting task, especially when you're away from home. With all the changes in environment and routine, it's easy to feel overwhelmed. But you don't want to change your routine or put a pause on this part of your family journey. The good news is that with a bit of planning and preparation, weaning on holiday can be a fun and exciting experience for both you and your little one. Here are our tips and tricks to help you navigate weaning on holiday!
1. Plan ahead
Before you set off on your holiday, make sure you have everything you need for weaning. This includes any baby food, feeding equipment, and utensils. If you're unsure about what to bring, check with your baby's paediatrician or a nutritionist. If you're using specific items like a special soft spoon or a special seat, take these with you as the familiarity of these physical items will help your little one feel relaxed and like being at home.
2. Stick to a routine
While you're on holiday, try to stick to your baby's feeding routine as much as possible. This will help your little one feel more secure and reduce any stress or anxiety they may feel due to the change in environment. If you need to adjust the feeding schedule slightly to accommodate your holiday activities, try to do so gradually to avoid upsetting your baby's routine.
3. Be flexible on your holiday
While it's important to stick to a routine, it's also important to be flexible. Holidays are all about relaxing and having fun, so don't stress too much if things don't go exactly as planned. Your baby may be more fussy than usual or refuse certain foods, and that's okay. Just keep offering different options and be patient!
4. Get creative with feeding
Weaning on holiday is a great opportunity to introduce your baby to new flavours and textures. You can get creative with your feeding by trying local dishes or offering finger foods. But as normal, just make sure to avoid any foods that may be a choking hazard, such as nuts or hard candies.
5. Stay hydrated on holiday
It's easy to forget about hydration when you're on holiday, but it's important to make sure your baby is getting enough fluids. If your baby is over 6 months old, you can offer water or diluted fruit juice between feeds. If your baby is still breastfeeding, try to offer more frequent feeds to ensure they're getting enough fluids. But always be sure to consider your own health and wellbeing, if you're feeling dehydrated be sure to get your own hydration in too for overall family happiness!
6. Bring familiar foods
Introducing new foods is one of the most exciting parts of weaning on holiday, but it's also important to bring some familiar foods that your baby enjoys. This will provide a sense of comfort and familiarity, which can help support a consistency for your little one when you're away from home.
7. Consider the temperature
Depending on where you're travelling on your holiday, the temperature may affect your baby's appetite. If it's hot and humid, your baby may prefer lighter meals and more fluids. On the other hand, if it's cooler, your baby may crave warm, comforting foods. If your baby is a little more fussy than normal, this is a great place to start looking for the reason why and this change can offer a quick and easy solution to making them feel comfortable again!
8. Be prepared for any mishaps
Accidents can happen, especially when you're weaning. Make sure you have plenty of bibs, wipes, and spare clothes on hand to deal with any spills or messes. It's also a good idea to bring a portable highchair or booster seat in case the accommodation doesn't have one. Our favourites include the Bumbo Multi Seat or Bumbo Booster Seat for ease of portability and support on your weaning journey!
9. Don't forget the snacks
It's important to bring plenty of snacks for your baby on your holiday, especially if you're on the go around a new area and aren't confident in where or when you'll be stopping. This can include things like fruit, rice cakes, and cheese sticks. Snacks can help keep your baby fueled and happy between meals!
10. Our top tip: Research
Research local supermarkets and restaurants to see what options are available at your destination to negate any stress or friction in trying to work out what you can do on the fly!
Weaning on holiday can be a fun and rewarding experience for both you and your little one. By planning ahead, sticking to a routine, being flexible, getting creative with feeding, staying hydrated, and being prepared for any mishaps, you can ensure a stress-free weaning experience. Enjoy your holiday and happy weaning!
About Bumbo
The Bumbo® brand was born in South Africa, and is now pioneering solutions to everyday parenting challenges across the globe. Bumbo® continues to manufacture its unique range of products without compromising on quality. They consult with parents, caregivers, orthopaedic and paediatric specialists to ensure the utmost safety, quality and comfort of their products.
You can find them on Instagram at @bumbo_uk, where they provide more helpful tips and tricks for parenthood.
Disclaimer: The views and advice given in this article are those of the guest writer and do not necessarily reflect the opinions of Weaning Week or any other organisations represented on this platform