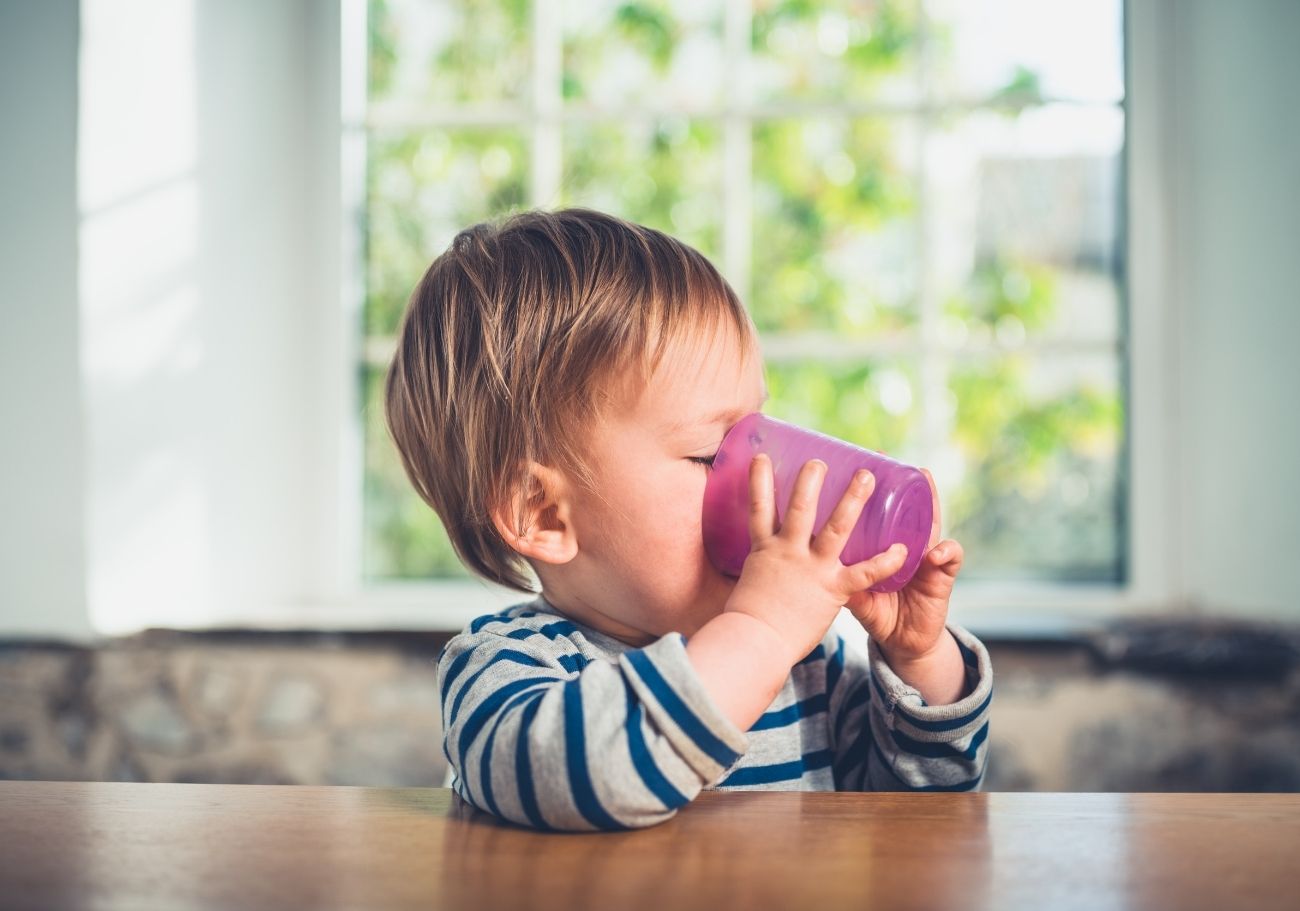 Teach your baby how to drink from an open cup
With thanks to Sara Keel (Mum, Chief Sipper and Babycup Founder)
Top tips for weaning sips!
How do you feel when you envisage your little one using an open cup? Worried for your carpet? Misty-eyed at the thought of your tiny person trying this new skill? Perhaps a bit uncertain about what type of open cup to choose? Whatever the emotions, please fear not as I am here to share my top tips for making this healthy habit totally doable and to have you beaming with pride at the results of these simple steps! 
Choosing the right cup
First off, choose a cup that's the right size for your baby. Can you imagine using a bucket for learning to drink? Cumbersome, wide, heavy when filled, and oh the spillage down the side of your mouth! So, just like many things we buy for our babies and toddlers – from cutlery to highchairs, to bowls and plates – choosing a mini open cup, like Babycup First Cups, immediately removes an unnecessary hurdle. And open cups are recommended by dentists as being kind to baby teeth. It sounds obvious when you say it out loud, but babies and toddlers are small! Being proportioned for a little mouth and little hands helps the liquid funnel into the mouth and the cup doesn't have unnecessary and hard to handle weight.
How much to serve 
Once you've got your baby-sized mini open cup, start small with the contents too. Start with a tiny amount of liquid – water or your baby's usual milk – just a drop to begin with, 10ml or less is fine. Practising empty is great too.
A helping hand
For the early days or weeks, you can hold the cup with your little one. Often, they will instinctively know what to do – they've seen you, or seen siblings or friends, using open cups and they've picked up huge amounts of information already by watching and learning – and they'll pick up the cup and may try and take it to their mouth. If your little one takes the cup, place your hand at the side or underneath – if their hand goes inside the cup, try holding the cup at the top to encourage them to hold lower down – gently guide the cup with them to their mouth, tip it only slightly and get them used to the feeling of the cup on their bottom lip.  If they don't want to hold the cup at first, don't worry, just hold it for them. Learning a new skill might take practise but it's so worthwhile.
The next stage is the hand hover. Whilst they start to hold and direct the cup themselves just hover a hand nearby and be ready to guide or help put it back on the table with them if need be. Resist the urge to take over, be there to help gently if needed but let them do the learning. If they're keen to try, that's great, little ones love independence and sometimes the only barrier to them learning is us not letting them (they really do wow us with their amazing ability to get there).
Praise and encourage
Praise and encourage their attempts, be at their level, make eye contact and let them know how proud you are of their effort. At weaning, parents or carers are on hand for mealtimes anyway so it is a great time to get sipping sorted too. 
It's a good excuse for you to sit down too. Walking the walk and showing them what to do by doing it yourself is such a great part of your baby learning to mimic. So grab a cup for yourself and sit and sip together. Model the behaviour you want to teach. Parents, siblings and carers can all make an impact.
Little ones might take to it straight away or perseverance might be needed, but whichever it is, they will get there. Spills and thrills along the way are all part of the learning process too and remember spills at this stage from their tiny open cup can be much smaller than when they're older and using a bigger cup.
Don't forget bath time
A great extra tip for sipping practise is to use a cup at bath time – they're naked and surrounded by water – it's perfect! Also, at first mealtimes, wait until after they've eaten and are less distracted. And when you start to hold and tip the cup to their bottom lip, rest it there for a second or two to encourage lip closure around the rim of the cup.
Some little ones go for it straight away, some do best with more encouragement. Stick with it and this healthy habit for life will be a skill you'll love seeing and your baby or toddler will be so proud of themselves too. Cheers to that!
About the author
Sara Keel is the founder of Babycup First Cups the award-winning mini open weaning cups recommended by dentists and orthodontists. Sara is a mum of three and a member of the All-Party Parliamentary group on a Fit and Healthy Childhood.
Babycup First Cups SRP £7.99 for a pack of four cups, suitable for weaning until 2.5+ yrs. They are BPA-free, made in Britain and 100% recyclable.
You can find out more on their website www.babycup.co.uk and follow them on Instagram @babycuphello 
Disclaimer: The views and advice given in this article are those of the guest writer and do not necessarily reflect the opinions of Weaning World or any other organisations represented on this platform