Tomato & Vegetable Pasta with thanks to MAM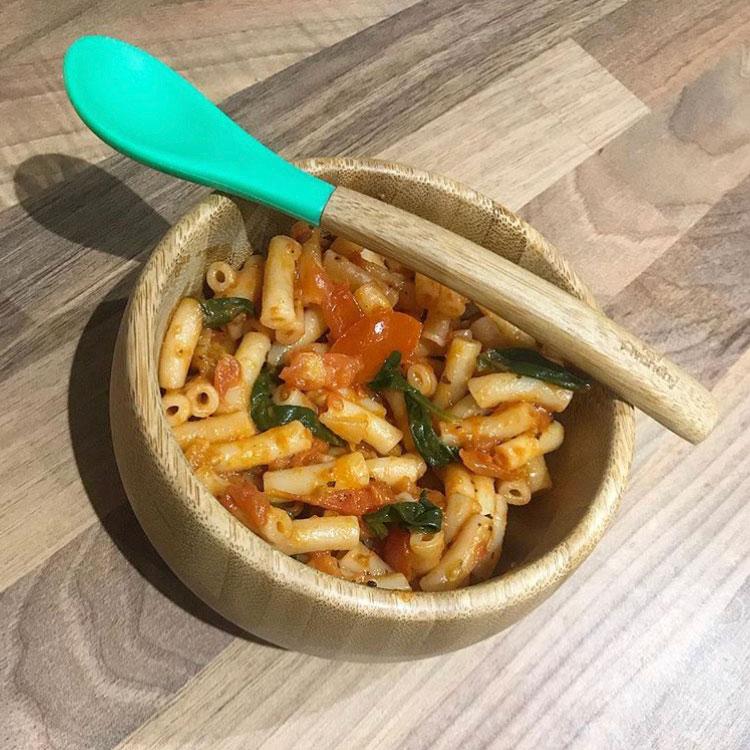 Pasta is one of my go-to's for a simple but tasty meal for Arlo. It's super quick and it always goes down well!

Adjust Servings
1/2

Onion, diced

1

Clove of garlic

Handful

Spinach leaves

1/2

Courgette, diced

1/2

Tin of chopped tomatoes

1

tbsp

Tomato puree
Optional
1 or 2

Extra veggies of your choice

Handful

Grated cheese
1.
Boil
Boil the pasta in a sauce pan.
2.
Cook
In another pan, heat a little olive oil and then add the onion, garlic, tomato puree and courgette, and cook for 5 minutes until it has all softened.
3.
Simmer
Add the chopped tomatoes and bring to the boil. Add in your spinach, cover, then gently simmer for about 15 minutes.
4.
Combine
Once the pasta has boiled, drain it and add it to the tomato and veg sauce. Mix it together.
5.
Serve
Dish it up, and sprinkle a little cheese on top if your little one likes it. If it's too chunky, you can also blend the sauce before serving.
Disclaimer: The views and advice given in this article are those of the guest writer and do not necessarily reflect the opinions of Weaning World or any other organisations represented on this platform.